So it seems like a good time to share some free books with the folk on the internet. This time we have something great for all the programmers and computer scientists out there. It's a list of 5 great links to huge lists of free programming/computer science books. In the near future I'll grab most of these links and put them into a single huge list of neatly arranged free programming books, but meanwhile enjoy these great links.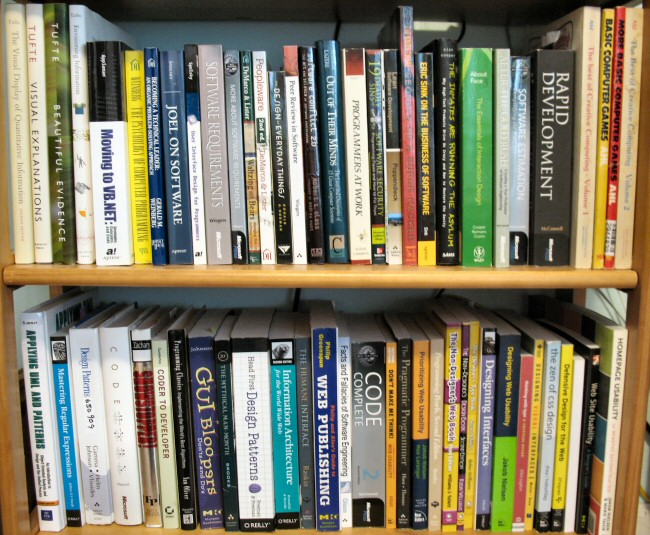 1. Become a Programmer, Motherf*cker
This website, besides a great name, offers a huge list of tutorials for beginners. It's probably the best choice for beginners, as it offers a big selection of guides for graphical programming, Java, Python, SQL, Latex, HTML and other languages.
This is probably the biggest list of free programming books that you'll find. And, while the biggest doesn't always equal the best, you will probably find anything you could need. Most of the books available to read online.
3. GitHub: Free Programming Books
Here's another big list, which probably has anything you'd need. It has a huge selection of programming books for both beginners and advanced programmers. In addition, there's a bunch books on programming math and algorithms.
4. Bookboon.com
This is a list of free quality textbooks on programming/computer science and some other related topics. Just by looking at the covers of these books you might ask — ok what's the catch? Well, to access these books you need to register. The idea of bookboon is to offer free textbooks students all around the world. This is possible due to reader support and a few ads inside the books. So, all you have to do is register and enjoy the books. Bookboon also has loads of books on other subjects, including physics.
5. 160 Free Books at Open Culture
This well known large list of free books offers a wide range of open access books, including science, math, business, history and, of course, computer science. The books cover such topics as Python programming, physical electronics, Java, information technologies and so on.
Comments
comments
Category: Free eBooks, Links