Among science documentaries, the ones about physics and technology seem to be dominating the screen these days. That's why it's always nice to see something a little different, for instance documentary about maths. So today let's take a look at one of the earlier works including mathematician and a popular writer Marcus du Sautoy as well as Terry Jones and Nick Murphy. "The Story of 1" delves into the history of mathematics to explore the story of number 1.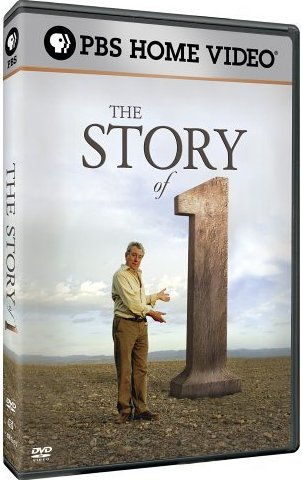 As simple as it sounds, number 1, or any numbers in general seem to be the pinnacle of mathematics. And "The Story of 1" explores early uses of math, why mankind had to develop math, why the Roman Numerals were inferior to our current system and the modern use of binary numbers.
Terry Jones embarks on a humour filled journey to discover the amazing tale that lies behind the simplest number we have. Computer graphics are used to illustrate and deliver mathematical concepts to everyday viewers and I have to say it's done quite well. In addition, the host Terry Jones does a really good job at creating a relaxed and fun atmosphere.
Information About the DVD
Actors: Terry Jones, Marcus du Sautoy, Ahmed Boulane, Fred Challa
Directors: Nick Murphy
Format: Color, DVD, NTSC
Language: English
Region: Region 1 (

U.S. and Canada only.

 Import version here)
Aspect Ratio: 1.33:1
Number of discs: 1
Studio: PBS
DVD Release Date: May 21, 2006
Run Time: 60 minutes
Average Amazon Customer Review: 4.3 out of 5 stars (24 customer reviews)
ASIN: B000EOTENQ
Amazon Best Sellers Rank: #24,428 in Movies & TV (See Top 100 in Movies & TV)
Links:
1. Buy the DVD here:
Comments
comments
Category: Physics & Science Documentaries