DK Science Encyclopedia 
DK Science Encyclopedia as you might guess from the title is an extensive guide of science and technology for young scientists (although it's quite useful for readers of any age). I think the editors did a splendid job with the presentation of the book and all the useful information.
Basic Info
Hardcover: 448 pages
Publisher: DK CHILDREN; Revised edition (September 1999)
Language: English
ISBN-10: 0789421909
ISBN-13: 978-0789421906
Average Amazon Customer Review: 4.0 out of 5 stars (10 customer reviews)
Amazon Best Sellers Rank: #442,527 in Books (See Top 100 in Books)
About the Editors
The editors of the book are Martyn Foote and Susan McKeever. For more books and information follow the corresponding links.
About the Book
DK Science Encyclopedia is the essential scientific reference book for today's young scientists and curious readers of almost any age. It's the ultimate guide to science and technology for the nineties and beyond. Packed with up-to-date information, DK Science Encyclopedia explains the principles of science in a lively and exciting way, including hundreds of colourful pictures and helpful diagrams. Among more than 280 major entries there are subjects such as evolution, energy, polymers, and pollution.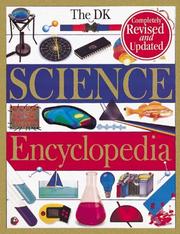 Links:
1) DK Science Encyclopedia on Amazon:
Comments
comments
Category: General Science Books