Here we have a book by Mario Livio called "The Golden Ratio: The Story of Phi, The Most Astonishing Number". It's a book about the mathematical and philosophical meaning of one of the most mysterious and important numbers – phi – the golden ratio. It's clear that there is an important relationship between nature and numbers. As Galileo once said "Nature speaks in the language of mathematics." So in this book Mario Livio investigates the relationship nature and numbers.
Basic Info
Paperback: 294 pages
Publisher: Broadway (September 23, 2003)
Language: English
ISBN-10: 0767908163
ISBN-13: 978-0767908160
Average Amazon Customer Review:3.9 out of 5 stars (91 customer reviews)
Amazon Best Sellers Rank: #26,883 in Books (See Top 100 in Books)
About the Author
Mario Livio is a senior astrophysicist and the Head of the Office of Public Outreach at the Space Telescope Science Institute (STScI) in Baltimore, Maryland.
Other popular books of Mario Livio:
i)The Accelerating Universe: Infinite Expansion, the Cosmological Constant, and the Beauty of the Cosmos
ii)The Equation That Couldn't Be Solved: How Mathematical Genius Discovered the Language of Symmetry
iii)Is God a Mathematician?
Short Review
Throughout history, the greatest minds have pondered the mysterious relationship between numbers and the nature of reality. In this amazing book, Mario Livio tells the tale of one of the most fascinating numbers: phi, or 1.6180339887…This curious mathematical relationship, widely known as "The Golden Ratio," was discovered by Euclid more than two thousand years ago because of its crucial role in the construction of the pentagram, to which magical properties had been attributed. Since then it was discovered that this amazing number appears in the most astonishing variety of places, from mollusk shells and rose petals to the shape of the galaxy. It is even believed to feature in works of art from Leonardo da Vinci's Mona Lisa to Salvador Dali's The Sacrament of the Last Supper, and poets and composers have used it in their works.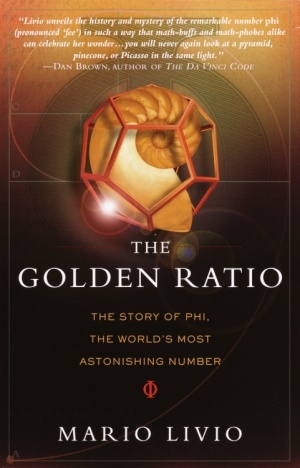 Links:
2) The Golden Ratio on Amazon:
Comments
comments
Category: Math Books